Please rate how useful you found this document:
Summary
Below is the upgrade and migration plan proposed by the ProcessMaker Support Team for ProcessMaker 3.2. Please read this document carefully to answer any questions and/or learn about modifications to the plan.
Note: To upgrade to ProcessMaker 3.2.2 from an older ProcessMaker version, see ProcessMaker 3.2.2 Upgrade Plan.
Objectives
To upgrade a production environment and migrate it to ProcessMaker 3.2.
Prerequisites for the Upgrade and Migration
Environment

A test environment that is preferably a clone of the actual production server (core files and data), if already fits the supported stack. Otherwise, a copy of this installation needs to be migrated to a new test environment.

Installed in a supported stack

The test environment must be installed in a supported stack to be upgraded to ProcessMaker 3.2.

Remote access

Remote access to the server is required, either through a VPN or any Remote Assistance Tool, to perform the upgrade in the new environment.
Upgrade Plan
Test Upgrade and Migration in the New Environment
Step
Task
Responsible
Time (hours)
Comments
1
Deploy the New Environment with Support OS
CUSTOMER
2
Install the Supported Stack (Apache, Php and MySQL)
ProcessMaker Support
Install the supported stack for ProcessMaker 3.2
3
Backup Creation
CUSTOMER - ProcessMaker Support
Create the core files backup
4
DB Backup Creation
CUSTOMER - ProcessMaker Support
Create the database dump files
5
Additional Setup
ProcessMaker Support
Restore connection hash and service settings.
6
Standard Upgrade Procedure
ProcessMaker Support
Run the standard upgrade procedure. Any issue found during this procedure needs to be documented in a new row below this one with all the details about how to fix it.
7
Test All Basic Functionalities
ProcessMaker Support
8
CUSTOMER Functional Tests
CUSTOMER
The CUSTOMER needs to test all the processes and custom plugins to ensure correct functionality.

Note: Any issue found or changes to be done need to be registered in a new row of this table before going to the next upgrade.
This procedure needs to be done for every step in the Upgrade Road Map to version 3.2, shown in the image below.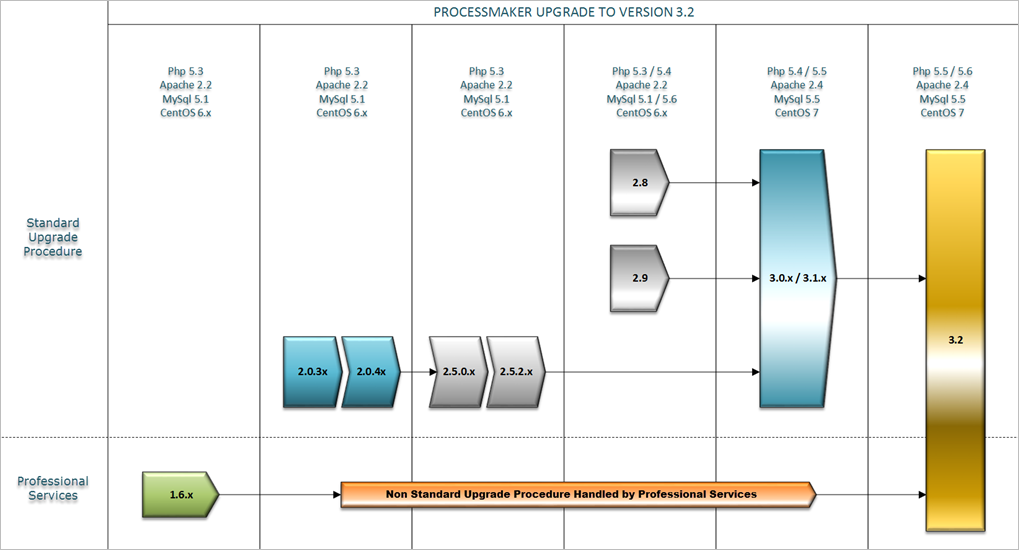 Server Settings
During the test upgrade, some issues on the server level may arise; all the extra settings or measures taken to fix any issues have to be documented in this section before starting the live upgrade.
[Detail 1]
[Detail 2]
[Detail 3]
[...]
Live Upgrade
Step
Task
Responsible
Duration
Comments










Note: The live upgrade plan will be a consolidated list of all the steps and estimated times that were taken in the test upgrade. This list will be updated after each upgrade is complete, up until version 3.2
ProcessMaker Support Recommendations
PLEASE pay attention to the following requirements:
All the steps in this document must be followed to successfully upgrade and migrate to ProcessMaker 3.2.
Each upgrade will start only with the CUSTOMER's green light after completing exhaustive functional tests.
The live upgrade must be done only after the test upgrade is completed.
Upgrade Standard Procedure
The standard procedure for the upgrade to version 2.x and 3.x in Linux and Windows is detailed below:
Linux
Upgrade to ProcessMaker 2.x
1. Copy the processmaker-2.x.x.tar.gz file to /opt
2. tar -xzvf processmaker-2.x.x.tar.gz
3. chmod -R 770 processmaker/
4. chown -R apache:apache processmaker/
5. cd processmaker
6. ./processmaker upgrade
Note: We recomend to use the comand database-generate-self-service-by-value ONLY be used if you are migrating from a version 2.x and NOT from the versions 2.8, 2.5.2.4 to versions 3.0.x, 3.1.x or 3.2.x. It is not recommended to use this command for other versions as the data is already migrated and for version 3.3.x is deprecated. For more information click here
Upgrade from ProcessMaker 3.0.x to ProcessMaker 3.2
Before upgrading to ProcessMaker 3.2, run the following query in the ProcessMaker database that will be upgraded:
UPDATE CONTENT SET CON_VALUE = 'none' WHERE CON_CATEGORY = 'WEE_DESCRIPTION' AND CON_LANG = 'en' AND CON_VALUE = '';
UPDATE CONTENT
SET CON_VALUE = 'untitled'
WHERE CON_CATEGORY IN ('WEE_DESCRIPTION', 'WEE_TITLE', 'DYN_TITLE', 'OUT_DOC_TITLE', 'REP_TAB_TITLE', 'TRI_TITLE') AND CON_VALUE = '' AND CON_LANG = 'en';
Then continue with the following steps:
1. Copy the processmaker-3.2.tar.gz file to /opt
2. tar -xzvf processmaker-3.2.tar.gz
3. chmod -R 770 processmaker/
4. chown -R apache:apache processmaker/
5. cd processmaker
6. ./processmaker database-upgrade
7. ./processmaker upgrade
8. ./processmaker flush-cache
Windows
Upgrade to ProcessMaker 2.x
1. Copy the processmaker-2.5.x.tar.gz file to c:/opt
2. Extract processmaker-2.5.x.tar.gz
3. Go to c:/opt/processmaker in the command prompt
4. php -f processmaker database-upgrade
5. php -f processmaker upgrade
Upgrade from ProcessMaker 3.0.x to ProcessMaker 3.2
Before upgrading to ProcessMaker 3.2, run the following query in the ProcessMaker database that will be upgraded:
UPDATE CONTENT SET CON_VALUE = 'none' WHERE CON_CATEGORY = 'WEE_DESCRIPTION' AND CON_LANG = 'en' AND CON_VALUE = '';
UPDATE CONTENT
SET CON_VALUE = 'untitled'
WHERE CON_CATEGORY IN ('WEE_DESCRIPTION', 'WEE_TITLE', 'DYN_TITLE', 'OUT_DOC_TITLE', 'REP_TAB_TITLE', 'TRI_TITLE') AND CON_VALUE = '' AND CON_LANG = 'en';
Then continue with the following steps:
1. Copy the processmaker-3.2.tar.gz file to c:/opt
2. Extract processmaker-3.2.tar.gz
3. Go to c:/opt/processmaker in the command prompt
4. php -f processmaker database-upgrade
5. php -f processmaker upgrade
6. php -f processmaker flush-cache
7. (To be completed with Engineering details)