Please rate how useful you found this document:
Overview
The Log Module lists content of the Cron log and the Emails log in order to provide an audit trail that can be used to understand the activity of the system and to diagnose possible problems.
Events and Case Scheduler logs only work for classic processes exported from ProcessMaker 2. So, these logs don't work with BPMN processes.
Audit and Actions by Email logs are detailed in a separated documentation.
To review logs, login into ProcessMaker with a user such as the "admin" user who has the PM_SETUP_ADVANCE permission in his/her role. Then go to ADMIN > Logs.
Note: From version 3.0.1.8. on, users must have the PM_SETUP_LOGS permission assigned to their role to access the ADMIN > Logs tab.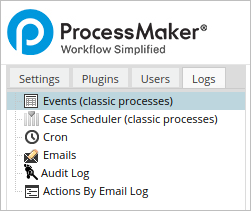 Cron Log
The Cron Log lists all the actions executed by the cron.php script for a specific workspace or for all workspaces. For more information, please go to the Checking the Cron Log in ProcessMaker page.

Email Log
The Email Log displays information about of all mails sent inside a process. For more information, please check out the Log Module to manage notifications page.